October 2020
| Mon | Tue | Wed | Thu | Fri | Sat | Sun |
| --- | --- | --- | --- | --- | --- | --- |
| | | | 1 | 2 | 3 | 4 |
| 5 | 6 | 7 | 8 | 9 | 10 | 11 |
| 12 | 13 | 14 | 15 | 16 | 17 | 18 |
| 19 | 20 | 21 | 22 | 23 | 24 | 25 |
| 26 | 27 | 28 | 29 | 30 | 31 | |
Calendar
Who is online?
In total there is
1
user online :: 0 Registered, 0 Hidden and 1 Guest
None
Most users ever online was
21
on July 23rd 2012, 20:42
Name: Burk'yc Jai
Age: 36
Affiliation: 212th Attack Battalion
Position: Brigadier General
Origin: Kamino
Species: Human (Clone)
Preferred Weapon: DC-15x Sniper Platform.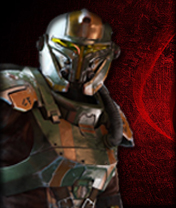 //Transmission Start.//
I was bred for battle on the planet Kamino and battle is what I know. I live and breath for it. I was raised as cannon fodder but now lead Legions, Kamino was where I was trained and raised and it was there my story began.
The year was 32BBY, it was then that I got my first glimpse at the world and all those in it. My first thought was not of a hunger for a warm meal but that of a soldier, even at that stage ... as a babe. But I soon realized I was not alone, a gray figure ominously looking at me with a plan to make me into a trained soldier ... a real soldier.
I was selected before I even had a name to lead men into battle. I made my way into the upper Echelon of the 212th Attack Battalion and proved my worth to my commanding officer. We participated in many honorable battles such as Concord Dawn, Geonosis and several others. I live by the resol'nare or "six actions" as known in Galactic Basic. I have burned many worlds and will live to burn many more. I fight, I bleed, but a blaster cant seem to kill me. I rally to fight beside my brothers In battle. Honor in battle is what I live for And war is what I do best.
"We are the 212th Attack Battalion and we land feet first into hell !" -- 212th Attack Battalion Motto.
"A lone soldier properly trained is a small army" -- Burk'yc Jai.
//Transmission End.//
_________________
Specialization: Bounty Hunter
Current Unit: 5th Shock Infantry
---------------------------
Combat Role: Infantry Soldier
Non Combat Role: Department of Propaganda.
---------------------------
Link: Propaganda Work

Burk'yc Jai

Recruit





Posts

: 261


Level

: 3286


Reputation

: 0


Join date

: 2012-09-17


Location

: Relentless - Heavy Carrier

Character sheet
Name: Burk'yc Jai
Rank/Position: Mercenary / Bounty Hunter
Faction: Mandalorians


---
Permissions in this forum:
You
cannot
reply to topics in this forum